A
To order samples with different specification than our existing samples or modified designs of our products, please provide the following information: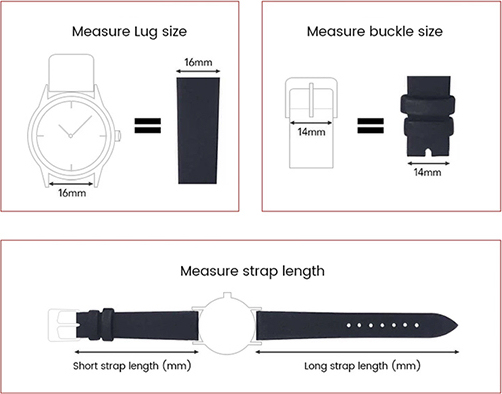 How to measure?
Q
Where is Ming Fung Industrial Company Limited based? 
A
We are based in Hong Kong and our production plant is located in the People's Republic of China. Should you want to know more information about our company, please go to the page of our company profile.
Q
What time will the products be dispatched?
A
We are doing our best to ensure that all orders dispatch will process and ship within 1-4 business days by utilizing both our "in house" fulfillment team. For non-stock or tailor-made items, the lead time is 30-60 days depands on order quantity. If your order is placed over a weekend or Hong Kong holiday, it may take up to four business days to ship from our headquarter. You will receive an email with tracking information at the time the order ships from our Hong Kong headquarter. Please allow 48 hours for the tracking info to update.
Q
How can I find a model or watch strap from our website?
A
You can search the keywords of your request with your known information, like model no., material, leather by the website search engine.
Q
Do you accept an order of tailor made straps or bespoke straps?
A
Yes, we do the service of tailor made straps or bespoke straps for many retailers or online stores. Let us know what do we want to help, please leave a message by email, info@mingfunghk@gmail.com.
Q
How is an order processing of mass production in your company?
A
Firstly, we should know whether you want to place an order of OEM models or ODM project. If ODM project, please refer to the point 8 to have more information about the order processing. Should you place an OEM models' order, you can provide our model no, swatch card or leather card no., size, length, thickness, buckles, specification of the products and order quantity. If you have any logo or any technical drawing are given, it is better for us. Otherwise, we will provide the technical drawing for your confirmation. Please provide AI file or PDF file of your logo or graphics for the mass production. We will provide a proforma invoice for the confirmation of an order. Please kindly advise any special request of your order. For example, pre-production samples, approval samples are requested before the mass production. You can also have more information on our page of order processing.
Q
Do you make any ODM projects?
A
Yes, we are able to make your products, including leather accessories, like keychain, coincase, wallet, card holder, leather bracelets, leather jewellry and so on from zero to a completed product. Our R&D team and the technicans do estimate your technical drawings. We will give you a comment or advice to see whether your drawings need to be adjusted or to be workable or not. Let me know what do you want and send your request to our email, info@mingfunghk.com now!
Q
Where are the items or watch straps transported from? 
A
Our goods or watch straps are transported from Hong Kong warehouse.
Q
How would I to track my delivery? 
A
We will provide delivery tracking number of courier express once the goods are shipped.
Q
Would you be able to transport globally? Is there any additional charge or duties to be paid?
A
"Yes, we are shipping globally. We co-operate the shipments as below:
– FEDEX 3-7 business days (includes full tracking)
– EMS Spreed Post International Service 10-20 business days (includes delivery confirmation)
– Standard International Air Post (limited tracking information and it is not suggested.)
Remarks: Please shipping rates calculator on checkout page for exact rates
International buyers or customers will receive an email with a tracking number within four business days of purchase.
Please also be aware of any duties that may be charged by your home country. These are the responsibility of the customer. In some regions, the local post may also charge a customs processing fee. For example, in the UK Royal Mail charges an £12.00 handling fee for any order over £15.00."
Q
What is the country of origin of the goods or watch straps?
A
Our goods or watch straps are made in China. Some of our material or leather are came from other countries. Should you want more information of our products or materials, please contact us by e-mail or leave a message on the contact page.
Q
How might I pay for my order? 
A
We accept bank transfer, T/T Remittance and Paypal. Should you have any query about the payment, please do not hesitate to contact us by e-mail.
Q
I was a wholeseller and I want to buy a large quantity of the products. What can I do?
A
If there is any inquiry about placing an order, please contact us by e-mail: info@mingfunghk.com. Our Sales Representative will contact you within one or two days.
Q
Would I be able to cancel or change my order? 
A
Yes, you can make your changes by clicking on your order link under your login account. Should the order was dispatched, it can not be changed of your order. Please contact us for a further assistance of your order.
Q
How would I return the product? 
A
Firstly, please contact us and let us know the reason of return. Should the products have any defects, you may get our consent to ship back the straps to us. According to our company policy, we accept that the freight cost of return is bared by buyer and that of another route of return is bared by us.
Q
Why do we carry a limited option of sizes of our watch straps per model only?
A
As long as we are a manufacturer, our online store is for the purpose of our wholesalers, distributors or retailers to be placed an order for new samples review only. However, we are welcome for the strap addictors which loves our watch straps. You can also follow us and contact us by instagram or facebook. We have the current stock of replacement straps of some different watch brands. Should you want to have more information, please contact us and we will contact you as soon as possible.
Q
How can I get your support?
A
You can contact with our Sales Representatives through email address: info@mingfunghk.com.